Injustice 2 Mobile Version 2.0 Released: Leagues, White Canary and Justice League The Flash, All Details
Netherrealm Studios has released Injustice 2 Mobile version 2.0 for Android and iOS devices. This major release brings the long anticipated Leagues mode in which you will participate in a league or form your own to combat Braniac and his minions: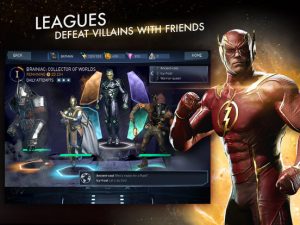 Lets take a look at all the changes in this version.
Join a League!
Leagues have arrived! People are counting on you save the world from the wrath of supervillain Brainiac but you cannot do it alone. You must join a League and work as a team to take down the ultimate boss. Get your League ready for battle now and let the Raids begin! Together you must destroy sub-bosses Captain Cold, Scarecrow, Doctor Fate, and Gorilla Grodd, before you can face Brainiac. Earn Raid Rewards along the way based on how much damage you contribute compared to your League members. Raid rewards include hero shards, gear shards and a new League currency that you can use in the League shop.

Leagues also introduces new social features including Leagues chat, a chat room which only members from your League can be a part be of. You can now also share or request shards from members of your League to help upgrade your heroes faster!
New Heroes
A lot of new heroes were introduced in this version of Injustice 2 Mobile, including:
Ezra Miller's Flash from Justice League the movie
White Canary from CW's Legends of Tomorrow
Powergirl
John Stewart's Green Lantern
Reverse Flash.
What do you think about the Injustice 2 Mobile Justice League update? Tell us in the comments sections below.