Alien Artifact (Mother Box) Gear Multiplayer Challenge For Injustice Mobile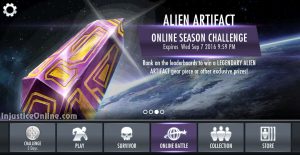 The Alien Artifact Gear has been added with Injustice Mobile version 2.9 in May 2016 but it has taken it 4 months to appear as a reward for a multiplayer challenge. This is because of the Injustice 2 and the Suicide Squad Injustice Mobile updates which had to be timed with the announcement of Injustice 2 and the release of the Suicide Squad movie.
The Alien Artifact Gear gear can be evolved to the Mother Box gear. The gear possesses the following properties:
Alien Artifact

Health Boost (10%)
Chance to evade SP 2 (10%)

Evolved: Mother Box

Health Boost (20%)
Chance to evade SP 2 (20%)
50% Chance to Power Drain 2 bars from an opponent at start of the match (Goes to 100% fully evolved)
To obtain the gear you need to rank among the top 5% players during an multiplayer season that offers the gear card as a reward.
The challenge has been available on the following dates:
February 7th, 2018 – February 14th, 2018
August 2nd, 2017 – August 9th, 2017
February 8th, 2017 – February 15th, 2017
November 23rd, 2016 – November 30th, 2016
August 31st, 2016 – September 7th, 2016