Injustice 2 Mobile Version 2.1 Released: Black Lightning, League Missions, Arena Changes, All Details
Netherrealm Studios has released Injustice 2 Mobile version 2.1 for Android and iOS devices. This release brings an expansion of the Leagues mode with missions, several changes to the Arena mode, a much anticipated new hero in the face of Multiverse Black Lightning and more. With the release of this version Netherrealm Studios also announced that there will be a delay in the shard exchange system due to a discovered bug.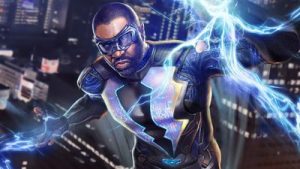 Lets take a look at all the changes in this version.
Arena Changes
Pip Refresh Timer Increased:  Arena hero pips now refresh every 24 hours instead of every 12 hours.
Paid Refreshes Number Lowered:  The amount of refreshes players may purchase has been reduced to a maximum of 2 every 24 hours.  The previous amount was 10.
Note that Arena rewards are NOT changing in any way.  Since these changes affect everyone equally, they will reduce the grind for players in Arena while allowing more opportunities for players to better enjoy other game modes such as Leagues, Campaign and Challenge.
In addition, to celebrate the digital release of the Justice League movie, Justice League arena seasons will see the return of Cyborg Invasions granting more Justice League heroes shards.
League Missions
League Missions – A new way to earn rewards! Complete the objectives as a team and everyone in your League will earn rewards. Some objectives include winning a number of arena battles, winning a number of heroic campaign battles, gaining a number of levels on characters, etc.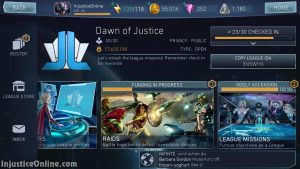 Multiverse Black Lightning
Inspired by the new CW TV series, Black Lightning joins the roster as the new Multiverse Arena character. Battle your way to the top with his electric moves and earth shaking attacks. Black Lightning's opponents will struggle to keep their power when they are up against this Metahuman! Available as an Arena hero and special offer.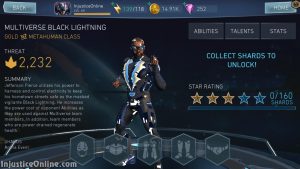 Take your battles to the next level with Multiverse Black Lightning's super moves! Here's a look at his abilities:
Passive

Team members who are power drained, regenerate health for each bar of power drained.

Grants a benefit (health) to what normally is only a negative effect (power drain).

Power cost of opponent Abilities increases per use against Multiverse team members (does not stack with similar passive Abilities).

As a battle progresses, your opponents Abilities will increase in power cost and therefore decrease in frequency & potential damage.

Ability Callout

Ability 1 "Wave of Thunder"
Ability 2 "Electric Cage"

In addition to Damage-Over-Time, this hazard will temporarily disable the opponent's Basic attacks and movement.

Victim may only Block or perform Abilities (which would increase in Power Cost due to Black Lightning's passive).

Ability 3 "Pierce of Lightning"

High damage attack with a lightning strike that Armor Pierces.

Interesting Fact:

His Rush Attack (Swipe Right) hits twice.
When performing either Ability 1 or 3 ("Wave of Thunder"/"Pierce of Lightning"), he'll teleport close to the opponent before attacking.

Non-multiverse  Team Composition with focus

Power Cost Focus:

Horrific Scarecrow (Passive: increases opponent power cost)
Powergirl (Passive: decreases power cost for team's Abilities)
Valentine's Day Specials
We will release the new hero the week of Valentine's Day and will provide more details soon.
General Improvements
Netherrealm Studios made a lot of other smaller changes. Here is a list of all of them:
Leagues

We've made it clearer for players to see their current standing by expanding the Raid leaderboard
We've made the current difficulty of the Raids clearer to all League members – previously this was only clear to Leaders and Officers

This includes us displaying the recommended threat value for the Raid that's currently running

All members of a League will now see the cool down timer after a Raid has been funded/completed – previously only Leaders and officers could see the timer
We've made it clearer that difficulty 5 and 6 Raids have a limit of one hero use per Raid – this is different than difficulties 1-4 and we now communicate that better
We've added clearer messaging for when users leave a League that there is a cooldown period which prevents you from immediately joining a new one. We do this so users don't exploit current Raids running in Leagues they might potentially join
We've made Raid completion and Boss defeated rewards clearer
We now call out that rank rewards are only granted when an entire raid is completed
We now display players hero roster's total threat value
We've fixed the consistent DOT bug in Raids that was affecting some users

Other Bug fixes

When we send Arena rewards at the end of the season we now include the tier that players ended up at. This is to avoid confusion when receiving rewards.
We've fixed Powered Super Girl – There was an unintended bug introduced where her passive required that you had enough power to use her SP1. She's back to normal and will grant you free use of her SP1 when she does critical damage.
What do you think about the Injustice 2 Mobile Justice League update? Tell us in the comments sections below.