Arkham Knight Batgirl Challenge For Injustice Mobile
The next Single Player Injustice Mobile challenge is here. You get the chance to obtain the Arkham Knight Batgirl gold characters: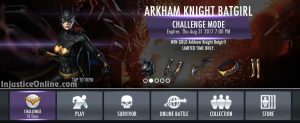 Arkham Knight Batgirl is based on the design of Batgirl in the Arkham Night game.
Arkham Knight Batgirl has great basic stats and some really useful passive ability which can be used in combination with Arkham characters. Take a look:
Attack: 1375
Health: 1325
Passive: Got your Back
Description: Batgirl has a chance for her SP1 or SP2 to be unblockable. Arkham Characters can be rescued from one KO blow by swapping in for them and using a smoke bomb with a CHANCE TO STUN.
To beat this challenge you must have Nightwing, Green Lantern and Black Adam on your team. There are Bronze/Silver versions of all these characters so this challenge shouldn't be a problem even for newer Injustice Mobile players.
The challenge has so far been available on the following dates:
August 17th, 2017 – August 31st, 2017