Black Adam Arena Season For Injustice 2 Mobile
The next Arena Season for Injustice 2 Mobile is here. It gives you the chance to compete for gold Black Adamcharacter shards.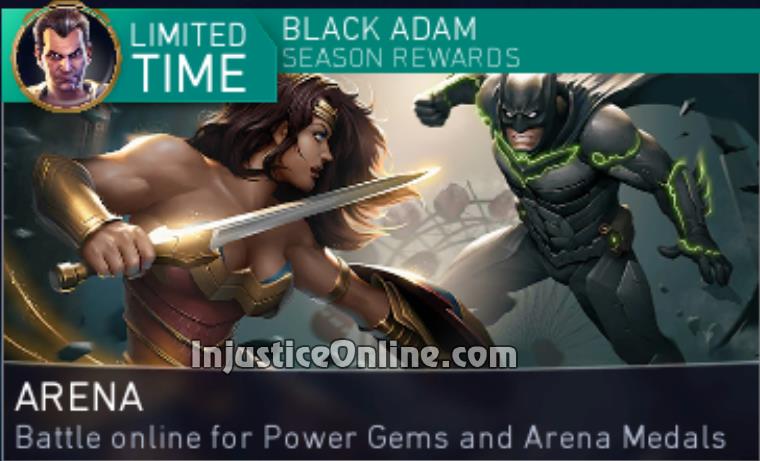 Character Summary
Black Adam can manipulate power by boosting power generation, stealing Power Bars and adjusting power costs of Specials. In addition, he can weaken opponent's Basic and Swipe Attack damage.
Black Adam is a three star gold arcane class character and has the following basic stats:
Threat: 3980
Health: 1109
Attack: 178
Passives: Power of Atom (Basic configuration):
– Immune to increases to Power cost of Abilities
– 10% chance to stun on tag-in
– 1% Power boost on Special 1, per use. Stacks up to 1 times
– 1 Power Bars may be stolen on use of Special 3
Black Adam's Specials can manipulate power.
To unlock the character you will have to collect 160 shards.
To obtain Black Adamcharacter shards you will have to reach at least Challenger II rank. Here are the shards per rank:
Challenger II: 5 shards
Challenger III: 10 shards
Challenger IV: 15 shards
Competitor I: 25 shards
Competitor II: 50 shards
Competitor III: 75 shards
Competitor IV: 100 shards
Elite I, II and III: 160 shards
Elite IV, Untouchable, Invincible and Legendary: 360 shards
Tips
Beat more powerful opponents to get more arena points
Fight at least once per day to get your 2x bonus for the match
Schedule
As with every other reward and challenge you can expect the Black Adam season to show up every once in while so if you have missed it so far you will definitely get another chance.
So far the season has been available on the following dates:
March 4th, 2019 – March 7th, 2019