Powered Supergirl Challenge For Injustice 2 Mobile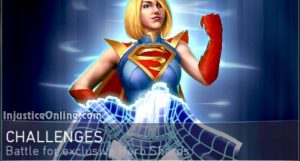 The next Single Player Injustice 2 Mobile challenge is here. You get the chance to fight for gold Powered Supergirl character shards and gear.
Character Summary
Critical hits on her most basic attacks grant Kara the chance to use her Walking Laser Ability for no power cost.
Powered Supergirl is a three star gold might class character and has the following basic stats:
Threat: 1796
Health: 825
Damage: 178
Passive: Powered Heat Vision
Description: 10% Chance to Adjust Power costs by 100% on Basic, Jump, Rush, Ranged and Crouch Crit Attacks for Ability 1.
To unlock the character you will have to collect 160 shards.
Challenge Description
Requirements
To beat this challenge you must have at one, two or three tech class heroes on your team, depending on the level you are playing. This shouldn't be a problem even for newer players, as there are several silver tech characters: Batman, Deadshot, Green Arrow and Cyborg. This requirement might however limit the thread level of the team you will be putting together for this challenge.
Opponents
Advisor Gorilla
Brawler Inmate
Powered Supergirl
Team Thread
Level 1: 8 184
Level 2: 33 555
Level 3: 74 717
Modifiers
Anti-Might Field: Tech heroes on the player's team deal increased damage when using Basic attacks and Abilities against Might opponents.

Tips
Tech Heroes deal 50% more damage against Might opponents.
Strategies
Don't waste your super meter on the weaker characters. Build up to a super and attack Powered Supergirls with it.
Schedule
The challenge has so far been available on the following dates:
March 4th, 2019 – March 8th, 2019
February 2nd, 2018 – February 5th, 2018
November 29th, 2017 – December 1st, 2017
August 18th, 2017 – August 21st, 2017
August 1st, 2017 – August 4th, 2017
July 21st, 2017 – July 24th, 2017