Blackest Night Martian Manhunter Challenge For Injustice Mobile Has Begun
With v2.6 of the Injustice Mobile Netherrealm Studios added tons of new characters to the game and many fans were asking themselves when the new single player challenges for obtaining all those great fighters will begin. Well as of right now the first one is here. During the next two weeks you can get your hands on Blackest Night Martian Manhunter: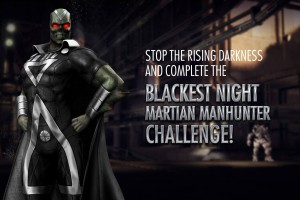 Blackest Night Martian Manhunter is only the beginning. Soon we will see challenges for a lot of other new characters, including several Arkham Night characters, Red Lantern and other DC Legends.
Are you happy with the latest update of Injustice Mobile. Let us know in the comments. We also created a list of characters we would like to see with the next update. Take a look at it here.
The challenge has so far been available on the following dates:
April 20th, 2017 – April 27th, 2017
October 27th, 2015 – November 11th, 2015