Cassandra Cain Batgirl Multiplayer Challenge For Injustice Mobile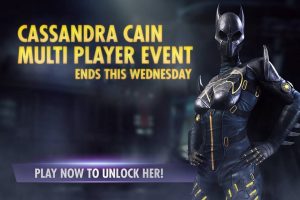 The Multiplayer Challenge for one of the most desired Injustice Mobile characters is once again available. For the next 7 days you will be competing in Online mode for Cassandra Cain Batgirl:
Cassandra Cain Batgirl is an incredibly powerful gold character with devastating Special 1 and passive ability. She takes 25% of the opponent's remaining health on tag in.
To obtain the Cassandra Cain Batgirl you will have to rank among the top 5% players during the new multiplayer season. The challenge has been available among other on the following:
The challenge has so far been available among others on the following dates:
July 5th, 2017 – July 12th, 2017
January 11th, 2017 – January 18th, 2017
July 6th, 2016 – July 13th, 2016
April 20th, 2016 – April 27th, 2016
December 30th, 2015 – January 6th, 2016