Rebirth Raven Challenge For Injustice Mobile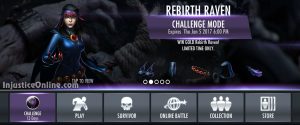 The next Single Player Injustice Mobile challenge is here. You get the chance to obtain the Rebirth Raven gold characters.
Rebirth Raven is inspired by the currently ongoing DC Rebirth comic book series. The character was added in Injustice Mobile version 2.13.
Rebirth Raven has great basic stats and a dangerous passive ability. When combined with other Rebirth characters, she becomes even more powerful and useful. This makes her a very powerful ally and a dangerous foe. Take a look:
Attack: 1300
Health: 1350
Passive: Demonic Pact
Description: On Tag-in, Raven siphons her opponent's power if it is more than hers. If Two Rebirth characters are on her team, she receives 3x more Energy [sic] per critical hit.
To beat this challenge you must have Black Adam, Harley Quinn and Lex Luthor on your team. There are Bronze/Silver versions of all these characters so this challenge shouldn't be a problem even for newer Injustice Mobile players.
The challenge has so far been available on the following dates:
July 6th, 2017 – July 13th, 2017
April 27th, 2017 – Mai 4th, 2017
December 22nd, 2016 – January 5th, 2016