CW Flash, Reverse Flash, Arkham Knight, Survival Mode And More Coming With Injustice Mobile v2.6
For a long time, fans of the mobile version of Injustice: Gods Among Us have been asking when new content for the game will be available. Well… now… at least for iOS. Version 2.6 of Injustice Mobile has been released for iOS devices a few hours ago and it brings a lot of changes and new content, including modes, characters and gear: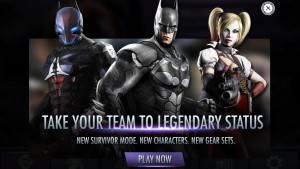 Survivor Mode
Gear Sets
New Character: Metahuman Flash, a.k.a. CW Flash
New Character: CW Reverse Flash
New Character: Arkham Knight
New Character: Arkham Knight Batman
New Character: Arkham Knight Harley Quinn
New Character: Blackest Night Martian Manhunter
New Character: Red Lantern Hal Jordan
New Character: Justice League Wonder Woman
All of these will be available at different times through challenges and/or through in-game purchases.
Take a look at the trailer for this update:
Here is a full description of this update:
What's New in Version 2.6

THIS! THIS IS THE UPDATE! THIS IS THE ONE!
This is a huge update that includes a ton of new characters, special guests and a brand new mode. Even the most seasoned INJUSTICE players will find something new in this update. Let's keep the fighting fun rolling!

SURVIVE A BRAND NEW MODE
SURVIVOR MODE is a brand new mode with extremely powerful rewards and a new gameplay system guaranteed to keep you coming back for more. See how long your chosen team can survive as you battle through a series of fights, with almost no health regeneration between matches. Do you cash out in the middle and take your loot, or keep fighting and chance it for even greater rewards? Want to know more? I bet we put up a video or something that tells you more.

GEAR UP FOR GREATER REWARDS
Introducing GEAR SETS! Earned exclusively in the brand new SURVIVOR MODE, these themed sets of Gear give you unrivaled advantage, even more so when combined. Starting with 4th WORLD GEAR, your characters will generate more power, regenerate health, and stun your enemies. Gear up. Be Great.

DIDN'T I SEE THEM ON TV
Buckle up. THE FLASH, from the hit CW TV show is joining INJUSTICE, and he's not the only one. REVERSE FLASH is on his way too. Wait, so if Flash and Reverse Flash are both in the game, does that mean neither of them are in the game? No, they're both in the game! Screw logic.

AND YEAH, THESE GUYS TOO
The Arkham Knight invades Injustice! From the mega-hit game BATMAN: ARKHAM KNIGHT we're bringing you the ARKHAM KNIGHT himself, as well as ARKHAM KNIGHT BATMAN and ARKHAM KNIGHT HARLEY QUINN. All of these characters will be available at different times down the road, but hey, good things come to those who wait.

BUT WAIT! THERE'S MORE!
We're bringing even more new characters into the game. Including BLACKEST NIGHT MARTIAN MANHUNTER, RED LANTERN HAL JORDAN, and JUSTICE LEAGUE WONDER WOMAN. There are so many new characters, you may never stop playing INJUSTICE

OH CHALLENGES… YOU'RE THE BEST
Tell the truth – to reach your full potential, you just need to be CHALLENGED. Injustice will provide. We have NEW Challenges ready for you, including:
– Blackest Night Martian Manhunter
– Red Lantern Hal Jordan
– Arkham Knight
– Arkham Knight Harley Quinn
– Justice League Wonder Woman
Android and Kindle players might have to wait a bit more. The wait shouldn't be that long as Netherrealm Studios will probably want to synchronize the new challenges on all platforms.
Do you like the new features. Let us know in the comments.