Dawn Of Justice Characters, Challenges, Daily Login Events And More In Injustice Mobile 2.8
With Batman V. Superman: Dawn Of Justice almost here it is no surprise that Netherrealm Studios and Warner Bros. have decided to bring the movie closer to you by giving Injustice Mobile a Dawn of Justice update with version 2.8.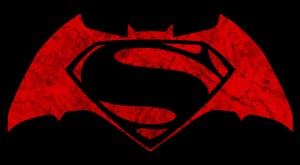 The intro of the game, some of the graphics, new characters, challenges and daily bonuses have all been added.
Lets take a look with all the cool things that come with this new update:
The Batman v Superman Injustice Takeover
Injustice Update 2.8 brings new characters and challenges into the fold, including 3 new Character Cards based on the new blockbuster film – BATMAN V SUPERMAN DAWN OF JUSTICE. Collect, Win and Play as Dawn of Justice versions of SUPERMAN, BATMAN and WONDER WOMAN in the all new Injustice 2.8.
Batman v Superman Daily Login Event!
Login in everyday starting on March 3rd and get a free daily gift.  Make sure to log on March 25th for a special gift in celebration of the Batman v Superman movie opening!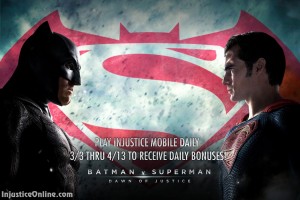 Challenges
New challenges make their way to Injustice!
Hope comes to Injustice with Dawn of Justice Superman!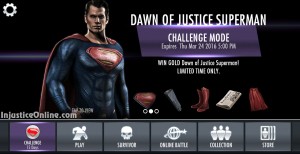 The Amazonian Princess, Dawn of Justice Wonder Woman comes to Injustice to prove her martial Superiority.
The Thunder King, Kahndaq Black Adam comes super charged.
Antimatter Sinestro emerges from banishment to exert his revenge on all who get in his way.
Booster Packs
Introducing the all-new Dawn of Justice Booster Pack. This is your chance to add Dawn of Justice Batman to your collection! Don't miss out!
Dawn of Justice Gear Locker! Complete your collection, this gear locker contains EXCLUSIVE Dawn of Justice Gear!
Early Access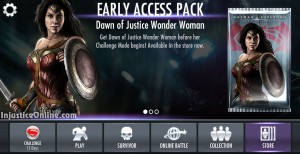 Get the Last Son of Krypton, Dawn of Justice Superman early and bring an all-new Superman to your collection!
Pick up the Dawn of Justice Wonder Woman early and be the first to see the Amazonian Princess before her challenge!
Coming Soon! Get Kahndaq Black Adam early to super charge your collection and rain thunder down on your opponents.
Coming Soon! Pick up the Antimatter Sinestro early access pack and turn the lights out on those who oppose you.
General Updates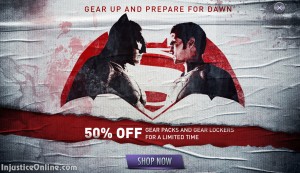 We made some adjustments to Survivor Mode and worked on the tuning of the game for difficulty where needed.
What do you think of this update, let us know in the comments?