Dr. Fate Confirmed For Injustice 2
Netherrealm Studios and Warner Bros have just released a new Injustice 2 character reveal trailer giving us one of the best character dialogs yet: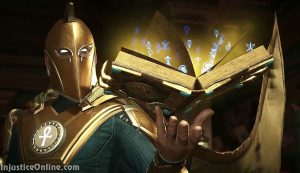 Justice is blind, not heartless!
Meet the much requested and eagerly expected Dr. Fate.
Dr. Fate didn't make the final cut for Injustice: Gods Among Us where only his armor appeared in one of the arenas. He did however play a major role in year 2 and year 3 of the Injustice: Gods Among Us comics where he joined Batman's Insurgency. He hid Batman in the Fate tower after his back was broken by Superman and also rescued Black Canary transporting her to another Earth at the end of year 2.
Dr. Fate mysteriously disappeared at the end of year 3.
We cannot wait and see where the story takes him in Injustice 2. Take a look at some screen captures from the trailer:
Are you excited about Dr. Fate's inclusion in the game, tell us in the comments below.