Rebirth Jessica Cruz Challenge For Injustice Mobile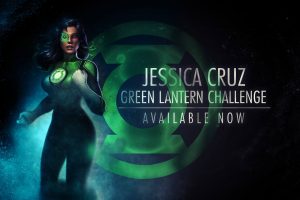 The next Single Player Injustice Mobile challenge is here. You get the chance to obtain the Rebirth Jessica Cruz gold characters.
Rebirth Jessica Cruz is a variation of the Green Lantern character and is inspired by the currently ongoing DC Rebirth comic book series. The character was added in Injustice Mobile version 2.13.
Rebirth Jessica Cruz has some impressive basic stats and a dangerous passive ability. These make her a very powerful ally and a dangerous foe. Take a look: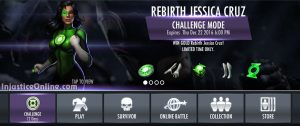 Attack: 1325
Health: 1325
Passive: Lantern's Might
Description: Each Green Lantern on her team extends her Special Attack 2 by one hit and adds combat effects. Her combo-ender has a chance for Kilowog to put the opponent in stasis with his ring.
Rebirth Jessica Cruz is the first female variation of Green Lantern in the game and the second with a name that do not include Green Lantern after Red Lantern Hal Jorden.
To beat this challenge you must have The Flash, Sinestro and Superman on your team. There are Bronze/Silver versions of The Flash and Sinestro and Superman is one of the most common gold characters, so this challenge shouldn't be a problem even for newer Injustice Mobile players.
The challenge has so far been available on the following dates:
March 16th, 2017 – March 23rd, 2017
December 8th, 2016 – December 22nd, 2016