Energized Starfire Challenge For Injustice 2 Mobile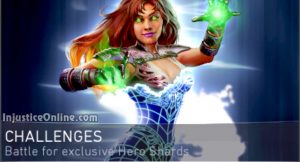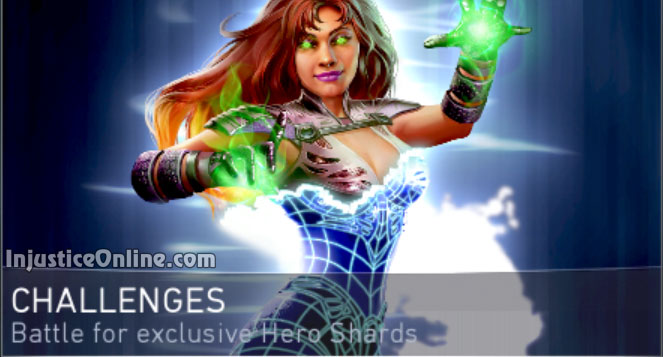 The next Single Player Injustice 2 Mobile challenge is here. You get the chance to fight for gold Energized Starfire character shards and gear.
Character Summary
Princess Koriand'r regenerates health as her opponent spends power. Also the next Queen of Tamaran heals her teammates when using her Starry Night Supermove.
Energized Starfire is a three star gold agility class character and has the following basic stats:
Threat: 1750
Health: 726
Damage: 188
Passive: Energy Absorbtion
Description: When the opponent spends Power, Starfire regenerates 1% Health per bar of Power. One Starfire's Supermove, she releases energy healing her team for 5% – 20% of their health.
To unlock the character you will have to collect 160 shards.
Challenge Description
Requirements
To beat this challenge you must have at one, two or three metahuman class heroes on your team, depending on the level you are playing. This shouldn't be a problem even for newer players, as there are several silver metahuman characters: Scarecrow, The Flash and Swamp Thing. This requirement might however limit the thread level of the team you will be putting together for this challenge.
Opponents
Level 1: Fiery Inmate, Shaman Gorilla, Energized Starfire
Level 2: Aquaman, Doctor Fate, Energized Starfire
Level 3: Speedforce The Flash, Dark Supergirl, Energized Starfire
Team Thread
Level 1: 6 378
Level 2: 31 880
Level 3: 53 924
Modifiers
Tips
Starfire regenerates health whenever her opponent spends power.
Strategies
Don't waste your super meter on the weaker characters. Build up to a super and attack Energized Starfire with it.
Schedule
The challenge has so far been available on the following dates:
March 19th, 2019 – March 23rd, 2019
February 6th, 2018 – February 9th, 2018
January 5th, 2018 – January 8th, 2018
December 8th, 2017 – December 11th, 2017
October 31st, 2017 – November 3rd, 2017