Injustice 2 Black Manta DLC Release Date and Gameplay Trailer Coming
On August 23rd, 2017 Netherrealm Sudios announced the characters that will be part of Fighter Pack 2 for Injustice 2. One of them is Black Manta. They did however made a mistake in the announcement trailer stating that a gameplay trailer for Black Manta will be arriving on May 27th, 2017 during a live stream on the twitch channel.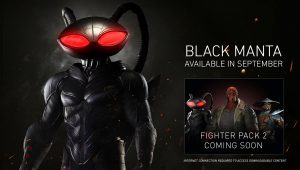 Today Netherrealm Studios corrected the information announcing that Black Manta will indeed be the first Fighter Pack 2 character to be released for Injustice 2.
The character will arrive in September and the Gameplay trailer will be dropping on August 17th, 2017. Unfortunately a more precise release date is not yet available.
Are you excited about Black Manta? Tell us in the comments below.