Injustice 2 Watchtower February 8th Stream Live Report
Hey guys, the second Injustice 2 Watchtower Stream came and went and we saw a lot of Injustice 2 Online Beta gameplay and learned a couple of new things about the game. Most importantly we learned that Black Canary will be joining the Online Beta at the end of the week.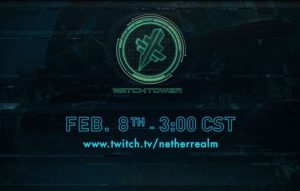 In case you missed the stream, we have it right here for you:
or you can watch it directly on Twitch.
Below is our transcript from the stream with all the information and announcements.
New information and announcements from the February 8th Injustice 2 Watchtower Stream:
One more stream coming this February, more coming in March and April.
The beta is remaining closed and not everyone will be receiving a code.
Playing with a character will mostly but not exclusively give you gear for that character.
Ranked Online Matches will not support gear. Only base stats of the characters.
Winning or loosing does not affect the quality of your gear.
The next beta update is coming at the end of the week.
Black Canary will be added to the Injustice 2 online beta at the end of the week.
For all the latest Injustice 2 news and updates, stay close to InjusticeOnlne.Com