Injustice 2 Watchtower Live Stream to Reveal A New Character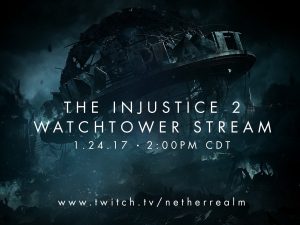 Netherrealm Studios will be hosting an Injustice 2 live stream event tomorrow (January 24th, 2017) at 2:00 PM CDT. The stream is going by the name The Injustice 2 Watchtower Stream.
During the event, Netherrealm Studios' creative director Ed Boon will be answering questions submitted by the fans on Twitter using the #askedboon hashtag. You have something you want to ask, here is your chance.
A lot of new information is expected to be announced during the event with the highlight being a new character reveal.
The stream will be hosted on Netherrealm Studios' own twitch page.
Who do you think the new character will be? Tell us in the comments below. For all the latest Injustice 2 news and updates, stay close to InjusticeOnlne.Com