Justice League Wonder Woman Challenge For Injustice Mobile Has Arrived
The next Single Player Injustice Mobile challenge is here. The long-awaited Justice League Wonder Woman is waiting for you to fight your way through the new challenge and add her to your collection: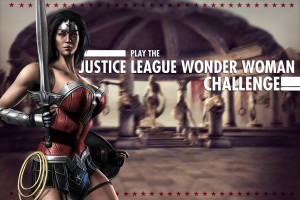 Justice League Wonder Woman has the amazing passive ability to fill one power bar of each Justice League team members when she performs a super or a special attack. With this ability she can increase the power of all versions of Superman, Batman, The Flash, Green Lantern, Aquaman, Martian Manhunter, Cyborg and of course Wonder Woman and will definitely find a place in your team.
The challenge will be available for 20 days until February 4th 2016. Have fun!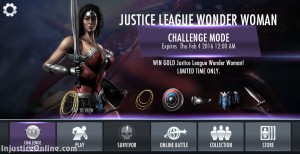 Justice League Wonder Woman is the fifth character from the Injustice Mobile v2.6 update. If you want to know more about this update take a look at these news:
So far the challenge has been available on the following dates:
January 18th, 2018 – January 25th, 2018
May 25th, 2017 – June 1st, 2017
October 20th, 2016 – October 27th, 2016
January 29th, 2016 – February4th, 2016