Last Laugh The Joker Challenge For Injustice 2 Mobile
The next Single Player Injustice 2 Mobile challenge is here. You get the chance to fight for gold Last Laugh The Joker character shards and gear.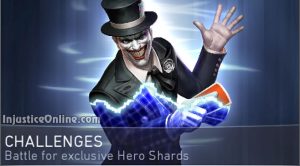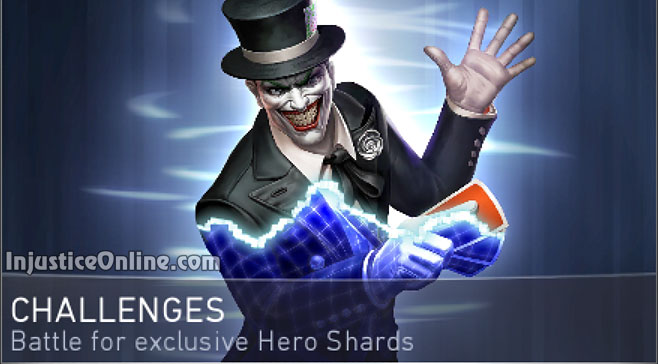 Character Summary
When anyone is defeated on either team, The Joker gains an increase to damage for the remainder of the battle.
Last Laugh The Joker is a three star gold agility class character and has the following basic stats:
Threat: 1778
Health: 792
Damage: 181
Passive: Killing Joker
Description: When anyone is defeated. The Joker gains 5% Damage.
To unlock the character you will have to collect 160 shards.
Challenge Description
Requirements
To beat this challenge you must have at one, two or three might class heroes on your team, depending on the level you are playing. This shouldn't be a problem even for newer players, as there are several silver tech characters: Superman, Wonder Woman, Amazon Wonder Woman, Aquaman, Bane and Gorilla Grodd. This requirement might however limit the thread level of the team you will be putting together for this challenge.
Opponents
Shaman Gorilla
Warrior Gorilla
Last Laugh The Joker
Team Thread
Level 1: 11 194
Level 2: 45 120
Level 3: 96 772
Modifiers
Anti Agility Field: Might heroes on the player's team gain a large boost to the damage they deal.
Tips
Might heroes deal 50% more damage against Agility opponents.
Strategies
Don't waste your super meter on the weaker characters. Build up to a super and attack Last Laugh The Joker with it.
Schedule
The challenge has so far been available on the following dates:
March 29th, 2019 – April 2nd, 2019
May 15th, 2018 – May 18th, 2018
January 16th, 2018 – January 19th, 2018
December 5th, 2017 – December 8th, 2017
November 14th, 2017 – November 17th, 2017
August 11th, 2017 – August 14th, 2017
July 11th, 2017 – July 14th, 2017
June 30th, 2017 – July 3rd, 2017
June 1st, 2017 – June 5th, 2017