Mythic Wonder Woman Arena Season For Injustice 2 Mobile
The next Arena Season reward for Injustice 2 Mobile is here. To celebrate the releases of both, the Wonder Woman movie and the Justice League movie, Netherrealm Studios and Warner Bros. are offering you the chance to fight in the Arena multiplayer mode and obtain gold Mythic Wonder Woman character shards.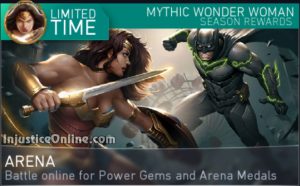 Character Summary:
With each enemy she defeats, Wonder Woman gains an attack bonus. She can also reflect damage back on the attacker with her Bracelet Block.
Mythic Wonder Woman is a three star gold might class character and has the following basic stats:
Threat: 1895
Health: 871
Damage: 188
Passive: God Killer Sword
Description: Absorb 10% of the opponent's Attack for 5 seconds when defeating them.
To unlock the character you will have to collect 160 shards.
To obtain Mythic Wonder Woman character shards you will have to reach at least Elite I rank. Here are the shards per rank:
Elite I, II and III: 160 shards
Elite IV, Untouchable, Invincible and Legendary: 360 shards
Tips
Beat more powerful opponents to get more arena points
Schedule
As with every other reward and challenge you can expect the Mythic Wonder Woman season to show up every once in while so if you have missed it so far you will definitely get another chance.
So far the season has been available on the following dates:
April 2nd, 2019 – April 6th, 2019
March 3rd, 2018 – March 6th, 2018
November 28th, 2017 – December 1st, 2017
June 20th, 2017 – June 27th, 2017
June 13th, 2017 – June 20th, 2017
June 5th, 2017 – June 13th, 2017
May 29th, 2017 – June 5th, 2017