Multiverse White Canary Arena Season For Injustice 2 Mobile
The next Arena Season for Injustice 2 Mobile is here. It gives you the chance to compete for gold Multiverse White Canary character shards.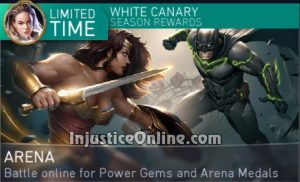 Character Summary
Leader of the Legends, Captain Sara Lance improves the base effects of her team's Equipment gear and provides a chance for Multiverse team members to use abilities at no power cost.
In addition, as a Multiverse combatant, White Canary benefits from the passive ability of Multiverse teammates.
Multiverse White Canary is based on Caity Lotz's White Canary character from CW's Legends of Tomorrow TV series and is part of the Arrowverse.
Multiverse White Canary is a three star gold agility class character and has the following basic stats:
Threat: 2188
Health: 908
Damage: 188
Passive: Multiverse Weapon Master
Description:
10% chance for Multiverse teammates Ability 1 to cost no power
+10% base effects of Team Equipment gear (5th slot)
To unlock the character you will have to collect 160 shards.
To obtain Multiverse White Canary character shards you will have to reach at least Challenger II rank. Here are the shards per rank:
Challenger II: 5 shards
Challenger III: 10 shards
Challenger IV: 15 shards
Competitor I: 25 shards
Competitor II: 50 shards
Competitor III: 75 shards
Competitor IV: 100 shards
Elite I, II and III: 160 shards
Elite IV, Untouchable, Invincible and Legendary: 360 shards
Tips
Beat more powerful opponents to get more arena points
Schedule
As with every other reward and challenge you can expect the Multiverse White Canary season to show up every once in while so if you have missed it so far you will definitely get another chance.
So far the season has been available on the following dates:
March 15th, 2019 – March 19th, 2019
May 15th, 2018 – May 19th, 2018
January 5th, 2018 – January 9th, 2018
January 2nd, 2018 – January 5th, 2018