Silver Banshee Challenge For Injustice 2 Mobile
The next Single Player Injustice 2 Mobile challenge is here. You get the chance to fight for gold Silver Banshee character shards and gear: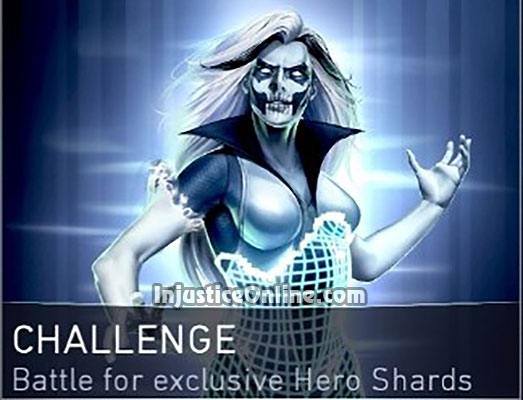 Silver Banshee was introduced in Injustice 2 Mobile version 2.6.
Character Summary
Silver Banshee Torments her opponents, disabling their Specials and causing them to take extra damage from her and her Arcane teammates' attacks.
Silver Banshee is a two star Arcane class gold character and has the following basic stats:
Threat: ???
Health: ???
Damage: ???
Passive: Torments Grasp
Description: When Silver Banshee's Special Abilities damage an opponent affected by Torment, they deal increased damage and have a chance to Disable their highest upgraded Special Ability for a duration. If an opponent's highest upgraded Special Ability is already Disabled, this passive chooses the next highest to become Disabled instead. All Arcane teammates' Special 2 and Special 3 benefit from Torment's Grasp.
To unlock the character you will have to collect 60 shards.
Challenge Description
Requirements
To beat this challenge you must have one, two or three metahuman class heroes on your team, depending on the level you are playing. This shouldn't be a big problem even for newer players,as there are three silver metahuman characters: The Flash, Scarecrow and Swamp Thing. This requirement can however slow down your progress in this challenge.
Opponents
Level 1: Brawler Inmate, Slasher Inmate, Silver Banshee
Level 2: Silver Banshee, Doctor Fate, Catwoman
Level 3: Silver Banshee, Armored Superman, Suicide Squad Harley Quinn
Team Thread
Level 1: 9 513
Level 2: 63 382
Level 3: 124 412
Modifiers
Siphon: Opponents gain health when applying damage.
Tips
Strategies
Don't waste your super meter on the weaker characters. Build up to a super and attack Silver Banshee with it.Beware however of her passive ability.
Schedule
The challenge has so far been available on the following dates:
September 1st, 2021 – September 5th, 2021