Smallville Season 8 Episode 21- Injustice
The Injustice: Gods Among Us franchise is not the first product in which DC Comics and Warner Bros. are making use of the word injustice in connection to the DC Universe. Throughout the years there have been an Injustice Society, an Injustice League, an Injustice Gang and even an Injustice Guild.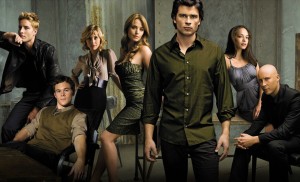 Even the hit TV Series Smallville created its own version of the Injustice team. Throughout the entire 8th season, Series newcomer Tess Mercer is forming her own team of superheroes to protect the planet from evil. In the season's 21st episode entitled Injustice, the team turns against her and Clark Kent after Tess sends them to track down Doomsday. The team consists of several metahumans. Those of them who have comic book versions are villains in the Superman universe.
Eva Greer: A shapeshifter and a personal assistant of Tess Mercer. She first appears in the episode Instinct.
Plastique (Bette Sans Souci): A psychotic 15 year-old with the ability to project high-frequency energy blasts in the form of explosives. First appears in the episode Plastique where she is recruited by Tess. Later she becomes a member of the Suicide Squad. For all the members of the team, Plastique is the one who appears in most episodes of the show.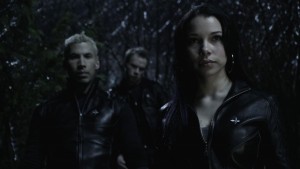 "We will reach out to everyone who has suffered your injustice, and form our own league." – Plastique, Injustice
Parasite (Rudy Jones): He has the ability to steal other metahumans' powers. Can even use his powers on Superman. Parasite appears for the first time in Injustice.
Livewire (Leslie Willis): She has the ability to produce and manipulate electricity. Appears for the first time in Injustice. Livewire recently appeared in the Supergirl TV Series.
Neutron (Nathaniel Tryon): He was recruited by Tess to join her team. He and Livewire were tracking Doomsday to a garage in Granville where the beast attacked them. Neutron tried to defend himself, but was killed by the creature. He appeared only in the Injustice episode.
The Injustice episode was directed by Tom Welling himself.
In case you haven't watched Smallville, you should definitely give it a try. It is an amazing show about Clark Kent's life before becoming Superman. Among other things, the series created the characters of Chloe Sullivan played by Allison Mack and Lionel Luthor played by John Glover.