Zatanna Challenge For Injustice Mobile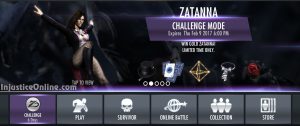 The next Single Player Injustice Mobile challenge is here. This time you will have the chance to obtain the very rare Zatanna Zatara gold card.
Zatanna is one of the DLC characters from the console version of Injustice: Gods Among Us.
In Injustice Mobile Zatanna is one of the first gold character challenges for the game. As such she does not have the power of later characters in terms of basic start but has a very useful passive ability and a long lasting special 1 attack that will cause DOT that make her a valuable addition to your team. Take a look:
Attack: 900
Health: 1150
Passive: Deck of Fate
Description: Zatanna can pick a card (using 2nd special) to gain 50% of health, damage over time, damage boost, power drain, or like all magic, it can BACKFIRE.
To beat this challenge you must have Harley Quinn, Bane and Black Adam on your team. There are Bronze/Silver versions of all of them so this requirement should not be a problem even for newer Injustice Mobile players.
The challenge has so far been available on the following dates:
January 25th, 2018 – February 1st, 2018
June 8th, 2017 – June 15th, 2017
February 2nd, 2017 – February 9th, 2017