Reverse Flash Online Challenge Available On Injustice Mobile
A lot of you have been looking for ways to get the Reverse Flash gold character for Injustice Mobile. Now you once again have the chance to obtain him. Reverse Flash is the current reward for the top 3% players in the new Multiplayer Season:
The Reverse Flash is one of the most desired characters from v2.6 update of the game. He is based on the character by the same name from the first season of hit the CW show The Flash.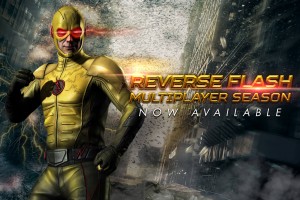 If you can't climb your way to the top 3% and win the gold card you can take a look at some other ways to get the Reverse Flash.
If you want to learn everything about the character take a look at our Reverse Flash guide. Just click on his name to open it.
The challenge has so far been available on the following dates:
September 1st, 2021 – September 8th, 2021
January 17th, 2018 – January 24th, 2018
November 1st, 2017 – November 8th, 2017
June 7th, 2017 – June 14th, 2017
October 12th. 2016 – October 19th, 2016
July 27th, 2016 – August 3rd, 2016
June 8th, 2016 – June 15th, 2016
April 13th, 2016 – April 20th, 2016
February 10nd, 2016 – February 17nd, 2016
November 25th, 2015 – December 02nd, 2016
Reverse Flash came with version 2.6 of Injustice Mobile. If you want to know more about this legendary update take a look at these two articles: