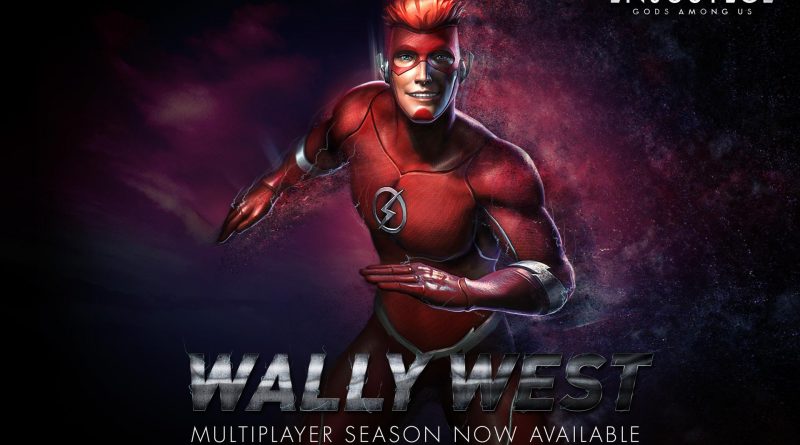 Current And Next Challenges – Injustice Mobile
Looking for Injustice 2 Mobile Challenges? You can find them here.
Injustice Mobile offers three types of challenges for winning different rewards, including gold characters, gear cards and gear sets.
Single Player Challenges
The single player challenge is the very first challenge for the game. It has 3 difficulty stages, each consisting of 5 battles with 12 to 15 fights. When available the challenge usually remains active for about 20 days. By beating it you can gain access of up to 3 gold cards of the current fighter and their gear card.
These challenges are not repeated and missed characters must be obtain through the store and the several booster packs. There are however cases in which a challenge might be repeated several times.
Multiplayer Challenges
The multiplayer challenges let you compete with other players in an online game in which you will combat the teams of other Injustice Mobile players. You will usually earn a top reward by being either in the top 5% or in the top 3% of all online players depending on the challenge. Each online season has a different challenge and a new season starts each Wednesday. Challenges are usually repeated many times and can be:
Gold Characters: Cassandra Cain Batgirl, Ares, Reverse Flash, Metahuman Flash, Blackest Night Doomsday, Suicide Squad The Joker Unhinged, Rebirth Wally West The Flash.
Gear Cards: Batmobile, Gauntlets, Cloak, Riddler's Cane, Egyptian Artifact, Alien Artifact/Motherbox, Ancient Katana/Soultaker Sword, Scarecrow's Mask, …
Rear Gear Cards
Survivor Mode Challenges
The Survivor Mode Challenges are the newest kind. Through these challenges you have the chance to obtain gear cards which are part of a set. These gear cards get stronger and stronger with each additional set part that you have equipped. You obtain these cards by playing Jocker's Laugh game at the end of Survivor Mode. The challenge rewards usually rotate:
Fourth World Gear Set
LexCorp Gear Set
League of Assassins Gear Set
Companion Card: Diablo, Enchantress, Killer Croc
Currently Available Challenges
Here is a list of the currently available and the currently known upcoming Injustice Mobile challenges:
Single-Player Challenge
Multiplayer Challenge
Survivor Mode Challenge
Next/Upcoming Challenges
Single-player Challenge
Gaslight Batman
Blackest Night Hawkgirl
October 25th, 2018 – November 1st, 2018
Multiplayer Challenge
Killer Croc's Sharpened Teeth
Astro Force
May 16th, 2017 – May 23rd, 2017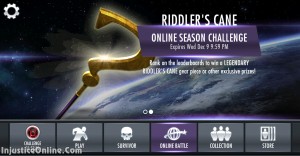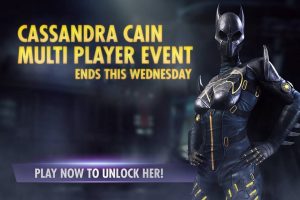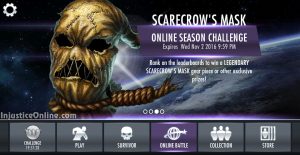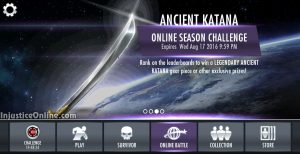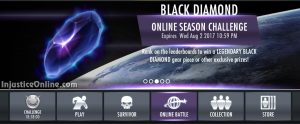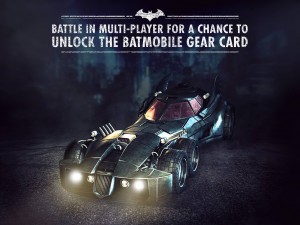 Suicide Squad The Joker Unhinged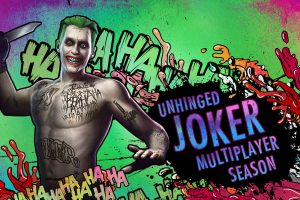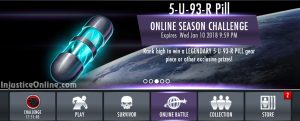 Legendary Egyptian Artifact Gear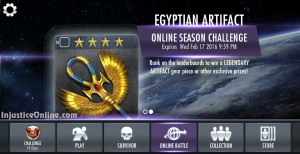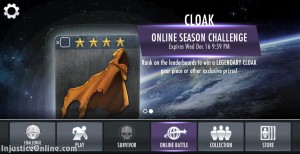 Alien Artifact (Mother Box) Gear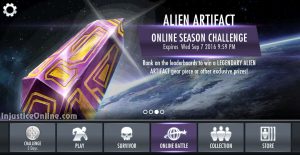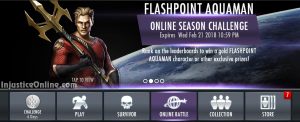 Blackest Night Superman
October 24th, 2018 – October 31st, 2018
March 15th, 2017 – March 22nd, 2017
Survivor Mode Challenge
Have suggestions for this page, let us know in the comments below.